Welcome to
Welcome to Mint House at The Divine Lorraine Hotel – Philadelphia
We've created this guide to help assist you during your stay. Should you need any further assistance, we are only a call away – (855) 972-9090.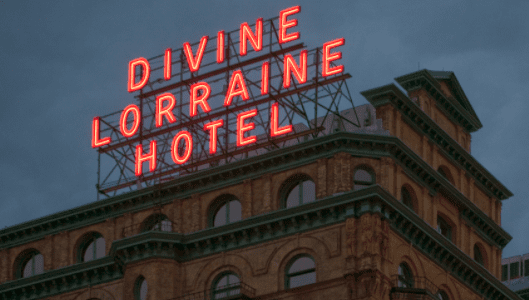 WiFi Network: Mint House + your unit number
Password: Relax111
Mint House offers Roku, which allows you to access your favorite channels and movies. For detailed instructions, please click here.
If you log into a personal subscription on the TV during your stay, please remember to log out before you leave.
The thermostat is automatically programmed prior to your arrival. If you choose to adjust the temperature during your stay, please turn it back to its original setting prior to checkout.
Feel free to use the kitchen as you please during your stay. It is fully-equipped with stainless steel cookware, glassware, dishware and utensils.
You are more than welcome to order from local food delivery services during your stay with us. Please collect your delivery from your courier at the building entrance.
Your room is stocked with towels and linens for each guest. Please help us stay green by re-using the towels provided. If you need additional towels or linens please reach out to Guest Services.
Washer/Dryer Instructions
Washer Instructions:
1. Turn the washer on and chose your desired cycle
2. Click start
Dryer Instructions:
1. Turn the dryer on (please do not turn the cycle knob)
2. Press the dry button
3. Press spin speed until the light no longer illuminates, and then press start
Mint House apartments are thoroughly cleaned with our comprehensive 74-point checklist which includes all surfaces. Please click here for more information.
Mint House does not offer parking, however if you are bringing a car you may find park at 510 N Broad street a secured parking garage nearby the property. Guests will receive a discount off of all posted daily rates. Please obey all posted parking laws as Mint House is not responsible for fines or tickets.
· Each ½ Hr Up to 2 Hrs: $4.80
· Up to 12 Hrs: $22.40
· Up to 24 Hrs: $25.60
· Evenings (In after 5pm – Out by 5am): $8.00
Additional parking nearby:
322 N Broad St, Philadelphia, PA 19107
Dedicated Luggage Storage
You are welcome to store luggage before and after check-in/checkout time until end of day. Please inquire at the front desk.
On property you'll find a curated intersection of food, music, and culture.
Mint House has partnered with a Fitness Center located at 640 N Broad Street, Philadelphia, PA, 19130 (Approx. 4 min walk)
For complimentary access, please advise the reception desk that you're a guest of Mint House and show your reservation details.
We kindly ask that you please follow the maximum occupancy guidelines for each room type:
One Bedroom: 2
Two Bedroom: 4
While enjoying your stay, please be mindful that this is a residential building. Quiet hours are from 9PM to 9AM. Loud and excessive parties are prohibited.
All Mint House properties are smoke-free environments. Smoking, of any kind, is not permitted within or outside of our apartments, including balconies, patios, or common areas. Smoking is only permitted in the parking lot away from the entry door by the smoking receptacle. Any sign of smoking in prohibited areas is a violation of our stay agreement. Please refer to our fee schedule for more details.
Checkout time is at 11AM. Please remember to check your apartment to ensure you didn't leave anything behind.
Please ensure to empty the refrigerator and freezer prior to checkout. Additional trash bags are located underneath the kitchen sink. There is a trash room located on each floor in the middle of the corridor between elevators 1 and 2.