Welcome to
Mint House at 800 Tower – Louisville
We've created this guide to help assist you during your stay. Should you need any further assistance, we are only a call away – (855) 972-9090.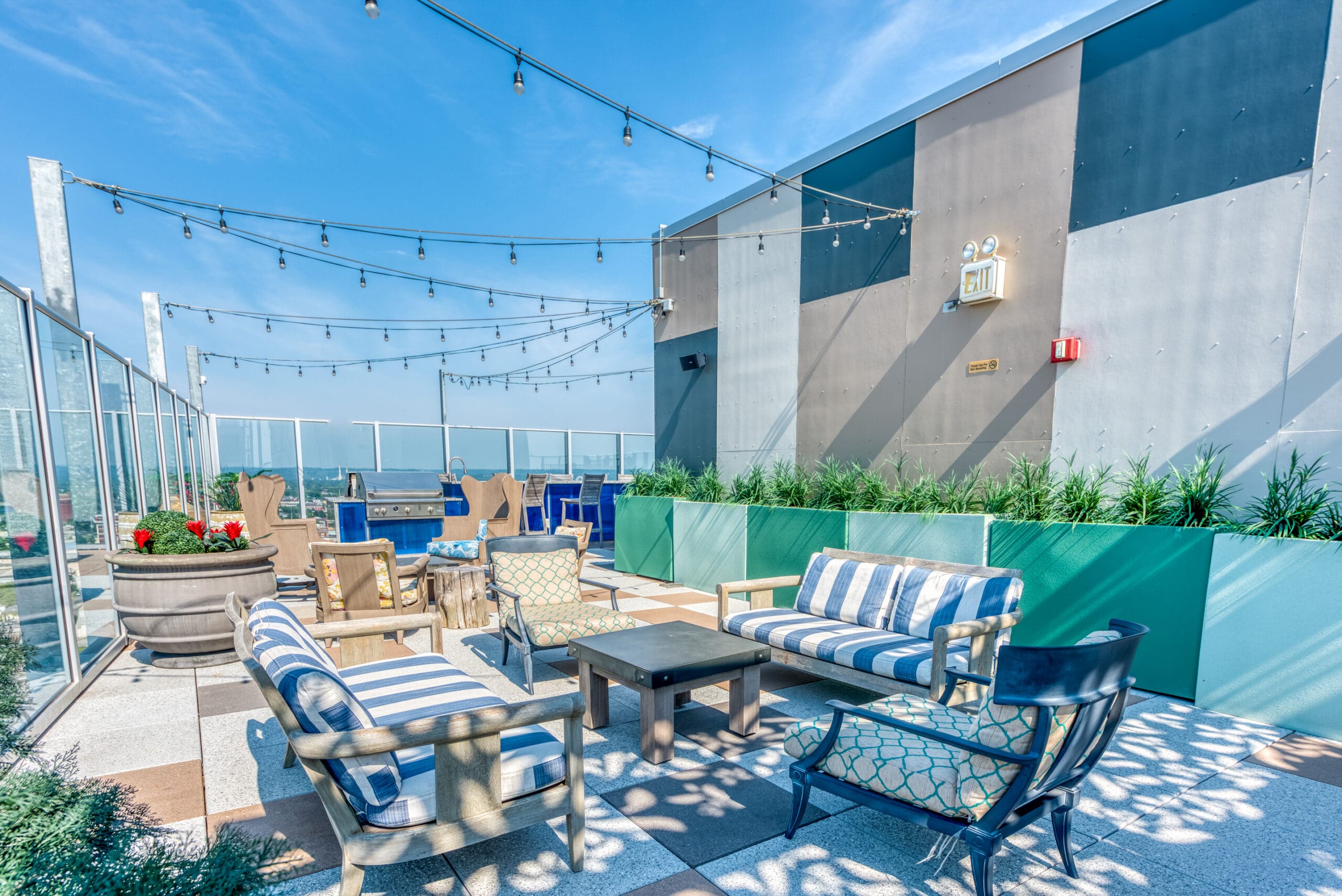 Please find your unique WiFi information in your check-in instructions email.
Mint House offers Roku, which allows you to access your favorite channels and movies. For detailed instructions, please click here.
If you log into a personal subscription on the TV during your stay, please remember to log out before you leave.
The thermostat is automatically programmed prior to your arrival. If you choose to adjust the temperature during your stay, please turn it back to its original setting prior to checkout.
Feel free to use the kitchen as you please during your stay. It is fully-equipped with stainless steel cookware, glassware, dishware and utensils. Dishwasher pods are provided and additional pods may be provided upon request.
You are more than welcome to order from local food delivery services during your stay with us. Please collect your delivery from your courier at the building entrance.
For your convenience there is a sofa bed in the living room. Please remove all cushions to find instructions on how to open it. Sofa beds are made up prior to your stay.
Your room is stocked with towels and linens for each guest. Please help us stay green by re-using the towels provided. If you need additional towels or linens please reach out to Guest Services.
Mint House apartments are thoroughly cleaned with our comprehensive 74-point checklist which includes all surfaces. Please click here for more information.
Mint House does not offer parking, however if you are bringing a car you may find parking at a nearby lot. Please obey all posted parking laws as Mint House is not responsible for fines or tickets.
Additional parking options nearby:
700 South 4th St. – Zone number 809.
Please use the Go502 app that can be downloaded on Apple and Android devices.
Located in the lobby. Hours: 24/7
Located in the lobby. Hours: 24/7
Located in the lobby. Hours: 24/7
Located in the penthouse. Open until 11pm
Located in the penthouse. Open 24/7
Located on the first floor. Hours: 24/7
We kindly ask that you please follow the maximum occupancy guidelines for each room type:
One Bedroom: 4
Two Bedroom: 6
While enjoying your stay, please be mindful that this is a residential building. Quiet hours are from 9PM to 9AM. Loud and excessive parties are prohibited.
All Mint House properties are smoke-free environments. Smoking, of any kind, is not permitted within or outside of our apartments, including balconies, patios, or common areas. Smoking is only permitted in the parking lot away from the entry door by the smoking receptacle. Any sign of smoking in prohibited areas is a violation of our stay agreement. Please refer to our fee schedule for more details.
Checkout time is at 11AM. Please remember to check your apartment to ensure you didn't leave anything behind. Please leave your keyfobs in the apartment to avoid replacement fees.
Please ensure to empty the refrigerator and freezer prior to checkout. There are trash chutes provided on each floor next to service elevator.
If you have left behind any items in your room, we will happily keep them for 30 days. Please contact us with a shipping address and note that there will be a shipping fee of $25 to return any items.